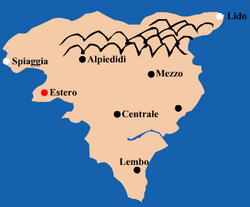 Quarto
Continent:
Aust
Nation:
Drude
Captial: Estero
Climate: Continental
Population: 201,542,731
Ratio: 67% Drude, 15% Human, 10% Half-Drude, 5% Senjo, 3% Other
Languages: Druden, Senjose, Trade
Religions: Cattòlico, Glaubin, Butsudou
Government: Monarchy
Leader: King Enrico Ragusa (RM)
Currencies: Denaro, Geld
ITA Member:
Yes
Slavery: Legal; Humans, Duendo, Half-Duendo
Quarto is the only Drude country not on the Vestin continent. It is instead located on the far northwest edge of Aust, and has the largest Senjo population out of the Druden countries.
Significance in Rune Master
Edit
In Rune Master, Quarto is where the story begins, in the port of Spiaggia. It is also the spot of the following:
Ad blocker interference detected!
Wikia is a free-to-use site that makes money from advertising. We have a modified experience for viewers using ad blockers

Wikia is not accessible if you've made further modifications. Remove the custom ad blocker rule(s) and the page will load as expected.