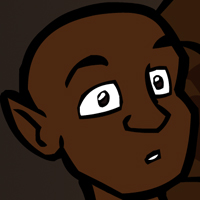 Azize Kwamti
Time Period:
Age of Unification
First Appearance:
Page 612
Classes: None/Child
Race: Half-Duendo
Age: 9
Sexuality: Too young to determine
Morals: True Neutral (Too young for established morals)
Faith:
Mungu
Languages:
Duendai
Weapons: None; doesn't fight
Fighting Styles: None; doesn't fight
DOB: 5/1/5567 AFE
Birthplace:
Atatu
Eyes: Dark Brown
Hair: Shaved bald (naturally black)
Height: 4'5" (1.35 m)
Weight: 68 lbs (30.84 kg)
Family: Jabin (father), Sauda (mother), and Diyero (half-brother).
Azize is the son of Jabin and Sauda Kwamti, and the younger half-brother of Diyero. Only nine years old, the young boy spends most of his time playing and helping his mother with chores. He is a cheerful and playful child, and takes a liking to Diyero instantly.
Azize learned of Diyero about a year before the demon slayer returned home, when his paternal grandparents told him about Jabin's first family. This is why Azize is not totally shocked when he meets Diyero for the first time in person.
Ad blocker interference detected!
Wikia is a free-to-use site that makes money from advertising. We have a modified experience for viewers using ad blockers

Wikia is not accessible if you've made further modifications. Remove the custom ad blocker rule(s) and the page will load as expected.